VOTING IS NOW CLOSED CONGRATULATIONS TO CONFESSIONS FOR ROMAHOLICS FOR WINNING :)
Here's how it's going to run down: there will be a poll at the bottom of this post and you simply just vote for your favorite blog out of all of these arguments! :) Each day, there will be
THREE
voting rounds posted, so you'll have to scroll down and see all the posts for yourself. Each voting round lasts for exactly a week and once every voting round it done, winners will be announced, and prizes (if you would like to donate
contact us
. Please remember that if we don't get enough prizes we won't be giving ANY out at all) shipped out—that is, if the winner wants a prize.
For the
Hottest Blog nominees, we asked for: unique pageviews per month, followers, average comment, a little about their blog, and the type of content you post.
The Book Nympho
Unique page views per month (I'm not sure but my overall monthly page views last month was 9,938) The Stomp vs Romp event has brought in lots of views and comments.
Average amount of comments per book review/post: 2-10
Followers: 1108
What type of content you post usually Books Reviews, Author Interviews, Author Guest Posts, Giveaways
A little about your blog: The focus is BOOKS, mainly in the Urban Fantasy, Paranormal Romance and Erotic Romance genres. But since I've added a couple of associate reviewers The Book Nympho has branched out to other areas of romance to include Contemporary Romance, Historical Romance and Suspense Romance. Basically I love the fanged and furred but will show love to the humans from time to time.
GraveTells
What makes GraveTells smokin' hot?
We review and host guest spots of ALL heat levels, from chaste YA to curl-your-toes-and-wash-your-mouth-out erotic. We review and host authors of ALL publishing types, from the big name houses to the indies, and we greet each author as an individual artist, not as a representation of who prints their stories. We give over control to the readers for three days at the end of each month, to let YOU decide who your Favorite Authors and Stories are, then we award nifty Readers Choice badges to the winners. Our Signature Interviews are highly coveted spots for authors. You can't get one by asking – we have to love your characters and story enough to offer it to you. And what fun interviews these are! See a few
here
.We have worked with over 70 authors to bring you the most entertaining, creative guest posts and giveaways. See some of em
here
. Did I mention we LOVE erotica?! Go
here
for more smutty goodness.
Total follower reach: 2000+
Monthly Unique visitors: 4,000+
Monthly Pageviews: 11,000+
Total comments left on GraveTells to-date: 4200+
A little about your blog: Vampires and werewolves and fairies, oh my! Erotic or chaste, gritty or sparkling, novella or epic, GraveTells has been hooking up fans of paranormal romance and urban fantasy with their book boyfriends since 2011. Come check out our "tells of grave tales" and meet your next crush @ http://gravetells.com
Confessions for Romaholics
We created Confessions from Romaholics to handle our expanded interests. Our former site, BookedUp was handling 12,000 views per month, we're hoping to have that at our new site. With our just recent merge with Tash M to Confessions from Romaholics, the site has been up now for about a month and it has been great success!
We are a group of women who love to read and review a mix of genres from Young Adult, Romance, Erotica and GLBT! So you are sure to find something within our eclectic and diverse group! Currently we are averaging a little over 1000 followers!
Fiktshun
Red Hot Books
Under the Covers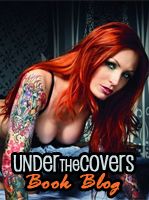 Ana's Attic
About the blog: Wow, this is cool to get nominated here, being so new! I guess people like my pervy ways. Since this blog is all about Alpha Males in Sexy Tales and books to read after Fifty Shades of Grey, it's bound to get hot. Add to that my Red Room of Pain filled with toys from Fifty Shades of Grey and more, and you have the ingredients for a hot blog. On top of that, I have written some posts about sex that have gotten very popular, including "So You Want Him To Spank You: How To Get Your Man to Have Fifty Shades of Fun", "Fulfill Her Fifty Shades Fantasies: Spanking and BDSM for Beginners and Nice Guys", as well as the occasional recommendation of an amazing toy ;-) I also put pictures of hotties on my Facebook daily. All of my book reviews have a HEAT rating as well as a star rating. Since all the books I read are not necessarily erotica (some of my favorites are 'new adult') I like to have the Heat rating so everyone knows what they are getting. I started the blog in April, 2012, but didn't really have it up and running in its current form until June, 2012 so I am brand new!
Here are some of my sexier posts:
http://anas-attic.com/anas_diary/getting-your-man-to-dominate-you/
http://anas-attic.com/anas_diary/beginning-bdsm-and-spanking-101-fulfilling-her-fifty-shades-fantasies/
Type of Posts: I try to post on the blog at least once per day, but I post way more on Facebook and Twitter. I review 3-4 books a week, plus add series reading orders, new releases, author news and freebie lists occasionally. I also post Top book picks lists and sex advice or news. I am not sure how to count followers on the blog because it is self-hosted wordpress, though I just added linky and have 28 followers. I have 401 twitter followers and 270 Facebook likes.
Page Views: The only full month I have stats for is July. I didn't put stat counter on until mid-June when my free clicky account filled up.
Stats for July 2012 are:
53,078 unique page views
37,039 unique visitors
2,694 repeat visitors from June
Comments: I have this spam-free filter that has filtered out over 1000 comments, but I don't know how many of those were good ones or not. I would say I average 3 responses per post on the blog, 10 on Facebook. Recent comments:
(Click to enlarge)
After voting, please scroll down to see the next categories!
Note: Confessions for Romancaholics is actually called
Confessions for Romaholics
. It seems we're making a lot of mistakes these days ;) Just remember that while your voting :) Thanks again!