VOTING IS NOW CLOSED. THE WINNER IS XPRESSO READS
Here's how it's going to run down: there will be a poll at the bottom of this post and you simply just vote for your favorite blog out of all of these arguments! :) Each day, there will be
THREE
voting rounds posted, so you'll have to scroll down and see all the posts for yourself. Each voting round lasts for exactly a week and once every voting round it done, winners will be announced, and prizes (if you would like to donate
contact us
. Please remember that if we don't get enough prizes we won't be giving ANY out at all) shipped out—that is, if the winner wants a prize.
For the
Nicest Blogger nominations, we asked that everybody find somebody to write a brief few paragraphs or so on why they were the nicest bloggers.
Fiction Freak
I was lucky enough to meet Nikki Wang at Teen Author Carnival this past June. She has the kind of infectious enthusiasm that makes an author want to give away her only ARC--and that's exactly what I did. A few days later, Nikki messaged me to tell me how much she liked VENOM and to ask if I'd do an interview on her blog. I checked out Fiction Freak and was really impressed. Nikki's reviews were thorough and honest without ever being cruel. She is truly one blogger who does not need snark to get her point across.
After I did the interview, we stayed in contact via gchat and twitter and have done additional guests posts for each other's blogs. I consider it an honor to be featured on Fiction Freak and know several other authors who feel the same, Nikki has a great rapport with writers--she doesn't make unreasonable requests and always understands if we're too busy to do a guest post, etc. At the same time, she always does her best to promote the books she admires via her blog and twitter. I consider Nikki a valuable professional acquaintance and a friend. You should award her the Nicest Blogger award because she is always kind to bloggers, writers, and readers. She is a shining example of awesomeness in blogging community.
—Fiona Paul, author of Venom
About the Blog:
I'm never really good at these but here it is: Fiction Freak was made from boredom and I can't believe that anyone looks, much less LIKES, my tiny corner! I use it to rant about books and ESPECIALLY to tell others about books. Ok, that's ranting. Still! Also--if you look at my blog, you may lose a few smart brain cells and gain book-obssessed brain cells.
Fictional Candy
Where do I even start trying to win someone over to Liz at Fictional Candy Blog? She's awesome on so many different levels I don't know where to even begin! I first cyberly-met Liz when she reviewed and interviewed me for my debut novel, Rae of Hope. I believe my comment in reply to her review was asking if I could print and frame it :) And I think her reply was to print the hot guy on a man-candy post :) I was hooked to her humor then and there!
Liz is a single mom, works full time and I have no clue how she has the time to blog as much as she does. She is the social networking queen! I've been in book trailer contests, cover contests, etc... and Liz has seen my posts on FB (or where ever she finds them) and shares them, getting me even more votes! SWEEETT!!
In her bio, she says she's a smart ass - I think she means she is incredibly intelligent, all the way to her derriere. This girl is funny, her book reviews are great and always have a hint of humor to them. The best way to get you to want to read something. Her interviews don't just ask the "normal" questions and her swag-giveways are great. I offered to mail her stuff and she offered to foot the bill on the postage! Who does that?! Only crazy people! LOL.
Vote FICTIONAL CANDY, and holy-gwock-amoly , if you've written a book; beg Liz to
read and review it. Then buy a frame for hanging the review up (or the hot man-candy
guy, if you prefer).
REVIEW BY: YA Canadian author, WJ MAY. Author of the Chronicles of Kerrigan
About the Blog:
Fictional Candy started as a way for me to keep track of other blogs and books that I was interested in. Now, approaching my one year anniversary in September, it has turned into a full blown obsession! I do something with my blog or networking for my blog every day. I've started a Facebook group called Blog Talk where other bloggers can join in, ask questions and get answers about the technical side of blogging. That has been a lot of fun! I've also started another group called Book Blog Giveaways where we can all post our promotions, regardless of genre, prize or anything! I do as many book tours as I can, I figure it is as good for the authors as it is for me! I feel so entirely lucky to have made as many new friends in the blogging and author world, I am just beyond thankful. And now I'm nominated for an award among these other fantastic blogs! It truly is an honor, and whether I win or not – this has been an amazing experience!
***Singing and Reading in the Rain***
Being nice is pretty hard. Every time I go out on the street, I have to physically restrain myself from yelling out mean things to people. But somehow, Elieen from ***Singing and Reading in the Rain*** manages to be nice to everyone.
Eileen's an active voice on Twitter, ready to reply to my lonely (and sometimes stupid) tweets. In addition, she actually responds quickly, so I'm not left hanging, wondering if I said something wrong. We've often had long conversations, and she's never left me doubting myself, which totally helps my self esteem.
Once, with this ego boost, I even asked her to look over some interview questions for me, because I was super lazy. Instead of chastising me, she not only helped me out, but followed up. For free. I don't know what someone put in her cereal, but this goodness has never wavered.
Sometimes I lurk in her comments section, and I see some rude comments directed at her. If I were in her position, I would have gone completely Godzilla on them, but she responded nicely and professionally, because she knows that they somehow mean well.
Lastly, she truly cares about each of her individual followers. If she was a cashier at a grocery store, she would know and greet you by first name. Heck, she'd also give you your groceries for free. Because she's one of the nicest bloggers out there.
—Isabelle @ Wake Up at Seven
About the Blog:
***Singing and Reading in the Rain*** is exactly what you think it is. A book and song blog run by a slightly insane 13-year-old named Eileen. It's been out in the open for about ten months and I plan to keep it alive for much longer. I like to rant, be extremely crazy, and rampage Twitter. I'm not the best bio-person, but if you visit my blog, I can guarantee you'll find something really special to me and an outlet for me to express my two passions. *cue arm spazzes to ruin the mood*
The Book Nympho
Is The Book Nympho nice? Sure, in a perverted, potty mouth kind of way... Ha! No, but in all seriousness, this chick rocks and deserves to win the Nicest Blogger Award. She's lent me more books than I care to count (which is no easy feat considering that we live in different countries!) and I'm rarely the one initiating the swaps. Out of the blue she'll just send me a message saying that she noticed a new book on my wishlist and has a copy for me to borrow. I recently co-hosted Stomp vs. Romp, a month long bloggy event, with The Book Nympho and she's a real pleasure to work with. Always available, on time, has great ideas and is not afraid of a little elbow grease plus, she's great at lightening the mood which is a huge bonus when in the midst of stressful planning.
Jennifer visits other blogs regularly and always leaves meaningful comments which are a rarity in the blogging world. Finally, she even offered to let me sleep on a pull-out in her hotel room to help me save costs on an upcoming book convention and we've never even met in person! You might not know The Book Nympho like I do (your loss) but trust me, she deserves your vote for this award.
—Carmel @ Rabid Reads
About the Blog
:
The focus is BOOKS, mainly in the Urban Fantasy and romance genres like: Paranormal Romance, Erotic, Contemporary Romance, Historical Romance and Suspense Romance. I will on occasion read a YA book if it's paranormal themed. I love the fanged and furred and on occasion the regular old human hotties.
My husband helped me come up with the name for the blog. I wanted something that said I love books and can't get enough of them. And since I do go on smut reading binges, I thought that Nympho summed up my obsession with books and hinted at the steamier books I read.The Book Nympho was est. in March 2011 and now has two associate reviewers.
Xpresso Reads
Back in February of this year I was just a casual Goodreads user who used the site to keep track of the books that I have read and hear about new ones. I noticed that on most of the books that I was interested in and had on my TBR shelf, there was a reviewer who had read almost all of them! I was baffled, how could she have read these books that I wanted for myself so badly, but didn't come out for months? So I started following Giselle on Goodreads, we had such similar taste that I began to take her view on a book as my deciding factor on whether or not I would read it. Then one day I decided to bite the bullet and contact her to see how she was reviewing books so early. She got back to me almost immediately and was so sweet in explaining to me what ARC's were and pointing me in the direction of her blog Xpresso Reads.
I was fascinated that this whole blogging community existed and knew that I had to be a part of it. I really attribute my start-up to Giselle, she was so kind and helpful and really made me want to put myself out there and get to know more people with the same interests as myself. Since starting my blog Giselle and I have become very close. She has helped me so much in these last 6 months. She has made herself available and is always ready and willing (and patient) with my constant questions. Whether it's being my photoshop guru, or just spending an afternoon talking random gibberish, Giselle is a blogger whom I have come to admire and am happy to call a friend.
—Jenni @ Alluring Reads
About the Blog:
I started my blog in September 2011 after having been reviewing on Goodreads for a year, and before that on a Facebook app. It's mostly YA novels that are covered but I do enjoy and review adult books as well. I post an average 4 reviews a week. My design was made by Parajunkee which turned out better than I was expecting, I do my own banners for tours and sidebar, however. I have a "book of the month"on my sidebar which is called (the month's) brew that I chose either my most anticipated, or a book I have already read and loved, that is releasing this month. I also have my previous month's reviews on my sidebar: A feature I thought of and started back in November, 2011 which people seem to really like by the feedback I've received. It also let's people see reviews that they may have missed, and at the same time the reviews get "featured" on the blog for longer. I'm very social and I love to chat with other bloggers which is my absolute
favorite
part of blogging. This is something I love and I hope it shows in what I give you!
Mimi Valentine
Mimi is actually taking a blogging hiatus, so I just shared her "About Me" page :)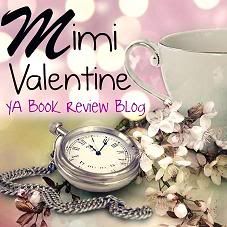 About the Blog:
I'm just an enthusiastic 15-year-old girl who loves to read and blog about what I read. Anything else you need to know should be on the "About Me" or "Policies" pages on my blog!
I definitely accept ARCs or already released books for review, and I'm also available to participate in any blog tours or book reveals too. If anything, please don't hesitate to email me any time for any reason at
mimivalentine@hotmail.ca
! :)
surveys & polls