VOTING CLOSED. Best Design goes to...
Welcome to the voting round for Best Design! Voting will last for one week, from July 27, 12:00 AM EST, to August 3, 11:59 PM EST. Please only vote once, and don't cheat. Scroll down for the next category, Most Creative!
Feed Me Books Now
Hi everyone! First and foremost, thank you so much for nominating me for this category. It means a lot to be nominated for Best Design (considering the amount of time I spent meddling with my blog's appearance)! I'm extremely passionate about designing, despite the fact I'm not very professional, and a lot of effort goes into my blog's look. I made all the graphics myself, which I'm pretty proud of considering I'm a 14-year-old who doesn't own Photoshop! But anyway, I've got a few of my readers to talk about my design...
Let's begin with the fact, Ruby's design includes a very-famous quote from Vlogbrothers: DFTBA. If you are not feeling instantly inclined to shout about how awesome Ruby's blog design (and herself) is, then you need to watch a Vlogbothers video immediately. Or read 'The Fault in Our Stars' - but, remember the tissues! Ruby's design is also inventive and imaginative, something I was attracted to when I found her blog. This is nothing found off the internet but all design by Ruby - whom I must say is extremely talented. Monsters stalk the page but are also adorable - along with Ruby having her own system when it comes to reviews. They're bright, vibrant and full of great vocabulary. I know this should just be on the design, but Ruby is also a fantastic friend to me. She definitely deserves her nomination - and through many conservations on Twitter - is definitely almost as awesome as her blog's design! ;) In all honesty, she is just wonderful! Completely wonderful! You must go and vote for her so she can continue to to try and decrease world suck for many more years. Quick! [The DFTBA mention is part of my blog post signature!]
—Sophie
Ruby is a extremely talented blogger and I adore her design. Feed Me Books Now has a recurring sort of theme with the orange and the cute little monsters. She uses great fonts and knows everything on "How to make a great graphic and or design". It goes really well with her blog name "Feed Me Books Now" and it's a very fun design that also has sophistication. I think she is absolutely worthy of her three nominations as her blog is of such a high quality and one of my favorites to visit. —Sunny
Sometimes I visit Feed Me Books Now just to stare at its wonderful design. It reflects brilliantly off Ruby's unique blog posts, and her interesting book reviews. Ruby's designing skills are unbelievable! She has such a creative mind. She can create banners, buttons, and anything really, with such ease.
Feed Me Books Now's design is so original and creative! I've really never seen anything like it! It really suits Ruby's unique blog. To think that Ruby, at her age, can create such an amazing design all by herself is unbelievable! I wish I had her talent. Feed Me Books Now has the best design I've ever seen, and probably will ever see! It is the definition of an amazing blog design!
—Jack
Thank you so much to those three for taking time to say their opinions about my Blog Design and saying why they think I should win! But also, thank you to everyone who nominated me as I'm honoured to be up against some of the prettiest blogs I've ever seen. :)
Click to enlarge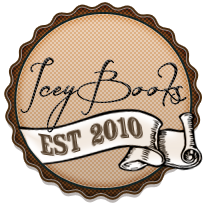 Icey Books
As a designer, I'm very picky in when it comes to design. I need designs to catch my eye and stay clean at the same time - and because I like that, I've incorporated the same idea on IceyBooks. I have one uncluttered sidebar with easy links to current giveaways, a handy search bar and social media icons, and fonts that are easy on the eyes. I love all things vintage, so it seemed only natural to base my design on that! While I have plans to change up this design soon, I can say I've gotten several comments on how much readers love it, which never fails to make my day.
Here's a tweet from someone who loves my design(s):
@IceyBooks By the way: I love how creative and vintage your designs always are. You have got a great talent.
— Jenna (@jennadoesbooks) July 14, 2013
Xpresso Reads
I went through a couple of designs since I started blogging and none of them truly screamed "ME" - really I don't even like pink all that much! So finally I spend a whole weekend designing a site that would reflect my personality and taste; it truly feels like my baby, now!
Book Loving Mom
I am so honored to be nominated for Best Design. All of the credit for my blog design goes to Giselle @Xpresso Reads. I am glad that she knows me so well because I think the design is a perfect fit for me. I love the color purple, and the design is so clean looking while being unique and pretty. The social icons are all the mother and child symbol which I think is really awesome too. And it helps that I think the chick looks a little like me. The letters floating in the background are fabulous. I am still as in love with my design today as I was when I first got it. I think that it is very "me" and couldn't have asked for a better design for my blog that fits me right!
---
Remember, voting lasts for a week until August 3, 11:59 PM EST. Please only vote once, and scroll down for the next category, Most Creative! Good luck :)