Welcome to the voting round for Most Influential! Voting will last one week, from July 30, 12:00 AM EST, to August 6, 11:59 PM EST. Please only vote once, do not cheat, and scroll down for the next category, Best Reviews!
Nose Graze
Ahhh!! Thank you so much for the nomination! I think it's amazing to be nominated for a "Most Influential" category when I've only been blogging for a little over a year!
Nose Graze started out focusing on dystopian and science fiction book reviews, but it has since morphed into so much more! Not only have my genres expanded since then, but I've also grown my blog to focus on WordPress tips and blogging help. I regularly post discussions about books, blogging, ARCS, followers, and more. As a web designer/developer, I also know a lot about coding and WordPress, so I try hard to share this knowledge with the blogosphere! I have a feature called "Bitchin' Book Blog" where I allow people to submit questions about blogging or WordPress, and I answer them in a post!
Stats:
Unique Pageviews per Month: 23k
1035 followers through RSS/e-mail/bloglovin
1949 on twitter
575 on facebook
I've been blogging for 15 months
Ashley is so dedicated to books AND websites, and I think that is one of the things that makes her so influential in our book blogging community. While I don't think any of the bloggers' word is (almost) law, I feel like when Ashley creates a discussion post, her voice is heard and people listen.
-- Alyssa Susanna @ The Eater of Books
Media Links:
Reading in Twilight
Stats:
I've been blogging for 3 months
490 Bloglovin'
945 Facebook likes
262 Google+
653 Twitter
11k views per month
1 award given
Media Links:
Jenna Does Books
Stats:
Over 214k+ page views in just over a year and a half of blogging. Over 750 email subscribers, 4.2k Twitter followers, 1.8k Facebook followers and a whole lot of books read and friendships forged!
Average Number of Comments: 6.5k+ total comments (spanning over 480+ blog posts)
I first encountered Jenna on Twitter when she offered an amazing giveaway. Since then, I have followed her blog with rapt attention. She writes thoughtful, informative reviews of the books she reads and frequently hosts exciting giveaways. If she recommends a book, you can bet that one will find its way on my "to read" list. She also recognizes the importance of getting the word out, about her blog and about the books she reviews. Given that, Jenna maintains a beautiful, easy to navigate site that's easy to follow as well as a strong Twitter presence. She knows what her readers want and how to provide it! Vote for Jenna Does Books!
—Erin Albert
Media Links: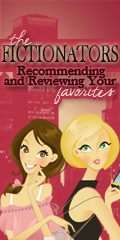 Fictionators
The
Fictionators
started out in 2009 as a way to highlight and promote our favorite
Twilight
Fanfiction stories. A couple of years ago, we decided to expand our review set and include books in addition to Twific. We've maintained our roots, but we also felt the need to spread our love for all things book related. We're always honest in our reviews, even if that means we're not the most popular girls. We're all about helping our readers connect to the story and find characters that they can fall in love with, which is why we like to keep things conversational and fun.
We asked a couple of our readers to help us out and let us know why
they
think Fictionators is influential. New Adult and Erotic Romance Author
Jeanette Grey
said:
When The Fictionators began, it was a blog dedicated to Twilight fan fiction. It was one of a handful of absolute must-visit sites on the subject, and one of the loci of a huge, vibrant, vocal community. Since that time, the Twilight fan fiction community has drifted in a lot of different directions, but The Fictionators has only become more influential. While most other fan sites disbanded or faded into the background, The Fictionators responded to the challenge of the community's wandering attention by broadening its focus to include a wide variety of original fiction. Today, the site is as large, trusted and respected as ever. By being responsive to the needs of its readers—I would go so far as to say by anticipating the needs of its readers—it has become a taste-maker among a huge number of smart, opinionated, increasingly well-read ladies, with an appeal and a circle of influence that I think will only continue to grow.
And book blogger/reader extraordinaire Jaime Arkin (of
Fiction Fare
) said:
For years now, The Fictionators has been my 'go to' blog for excellent recommendations whether it be for original fiction or fan fiction, the staff at The Fictionators knows their stuff. They always know what the next big story will be. They engage readers with discussion topics, podcasts, giveaways and more! Readers know that when The Fictionators features something it's worth your time to check it out. The reviewers that are featured on The Fictionators offer their opinion with eloquence and tact, and can be trusted to look at things objectively. I, and many other readers count on this when looking for the next big story to read. I know that when something is featured by this amazing blog, that I better go get my copy right away or I'll miss out on an amazing story!
Stats
Blogging Since May 2009
4,557 Twitter Followers
377 Facebook Likes
32,000+ Average Unique Page Views Per Month
---
Remember, voting will last a week until August 6, 11:59 PM EST. Please only vote once, do not cheat, and good luck! :)