VOTING IS NOW CLOSED CONGRATULATIONS TO AWESOMESAUCE BOOK CLUB FOR WINNING :)
Here's how it's going to run down: there will be a poll at the bottom of this post and you simply just vote for your favorite blog out of all of these arguments! :) Each day, there will be
THREE
voting rounds posted, so you'll have to scroll down and see all the posts for yourself. Each voting round lasts for exactly a week and once every voting round it done, winners will be announced, and prizes (if you would like to donate
contact us
. Please remember that if we don't get enough prizes we won't be giving ANY out at all) shipped out—that is, if the winner wants a prize.
For the
Most Helpful nominees, we asked that somebody write a few paragraphs on that person's behalf on how they were really helpful and then requested a little about their blog.
Awesomesauce Book Club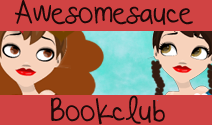 For this post we asked a super duper totally awesomesauce funny as crap author Evelyn Lafont (author of The Vampire Relationship Guide) tell you why she thinks we are "helpful"
The definition of a 'helpful' blog is an extremely subjective one. One individual might find a book review blog helpful if it only says nice things about books (likely, this person would be called an author). Another person might find a book review blog helpful because it has lots of cool prize giveaways. Still another might only find helpful those review blogs that make an art out of criticizing the flaws found in books, because this helps the blog reader dodge the bullet of a shitty tome. While there are many reasons I could tell you that AwesomeSauce Books is a helpful blog, I'm going to focus on the one that I think is the most important and the most lacking in the book review blog circle.
Amber loves books. Period. That's it. She doesn't love fame or infamy, she doesn't love kissing author ass or becoming an ARC-magnet. She doesn't want to take over the world with her legions of blog readers who jump when she says jump and know to pile on when she doesn't like something. She. Just. Loves. Books. As does the other Amber who, since this is the Internet, may actually still be the same Amber but with a lazy identity crisis that couldn't come up with an alternative name for itself. I dunno. What I do know is that Amber(s) of AwesomeSauce Books spreads her enthusiasm for books like erotica spreads its descriptively written legs. Through her passion she supports both authors and readers financially (Did you know that she often pays out of her own pocket for the prizes she gives away?) and through honest reviews that discuss what she likes and doesn't like. Best of all, when she discusses the good and bad of a book, she does it just like you'd expect a passionate book lover to.
Lastly, when you read a review on AwesomeSauce Books, you know that the review was written for the reader. Her reviews are honest, from the gut, fun to read and not about her. I mean, they are about her because they're very personal opinions about a book--but their purpose is to give an opinion of a book, not to build a reviewer brand. This, to me, is one of the most valuable aspects of AwesomeSauce Books' reviews; they are about a reader's personal relationship with a book. And isn't that what we all crave when seeking out a new book to read or author to audition?
About the Blog:
Hi we are the Amber's from
AwesomeSauce Book Club
. We have been blogging for about a year and a half. We review mainly Urban Fantasy and Paranormal Romance but really, we do mix things up a bit. If you want to get to know us more, pop on over and say HI! We love to talk about books. And thanks so much to anyone that nominated us. We think its super awesome, and you guys totally rock!
Fiktshun
GraveTells
"They have been helpful, supportive, friendly, and time and again gone above and beyond in their service to authors. Their monthly readers' choice awards is an excellent way to recognize the books and authors who have appeared on their blog in the previous month and helps generate a lot of buzz for those up for the awards.They work with you to create unique guest posts, like the time DaVinciKittie and I did this totally fun back-and-forth character interview between her, me, and two of my characters. That had been her idea and took a lot more of her time than another kind of post might've. Finally, they write some of my favorite book reviews out there. I think their reviews are especially helpful for including across-the-board thoughtful and well-written review content, but also for including quotes from the reviewed books and 'if you like this, then you'll like that' reading recommendations." —Laura Kaye
"DaVinciKittie brought me into the world of blogging, book reviewing, and is the person
who asked me: 'Do you write fiction?'
That question, and her willingness to direct me to different websites looking at blog themes, web hosts, calming endless nubbie freak outs (over nothing of consequence), and encouraging me through over twenty rejections from literary agents led me to where I am today. Pffft…seriously? She is THE helpful blogger. DVK fits more stuff into one day than most people fit into a week.
Everything she does on GraveTells helps the authors. From the book reviews to the contests to the giveaways. The awards, the monthly picks, the character interviews, the silly articles she lets me post.
Today, as I write this article, it's on a break from editing my novel HUNGER
EMBRACED. HUNGER EMBRACED only happened because DVK took the time to help me overcome my fear of all things interwebs...and held my hand when I would have given up.
Most Helpful Blogger?
Hellz yeah." —Jennifer James
About the Blog:
Vampires and werewolves and fairies, oh my!
Erotic or chaste, gritty or sparkling, novella or epic, GraveTells has been hooking up fans of paranormal
romance and urban fantasy with their book boyfriends since 2011.
Come check out our "/tells of grave tales" and meet your next crush @ http://gravetells.com
Parajunkee
This was a letter submitted (unsolicited) prior to being nominated for Most Helpful from
Jill
in regards to the Book Bloggin 101 Feature, dated 8/9/12:
"Just wanted to give you a high five for this week's "Blogging 101"!!!!!--LOVED IT!!!!!!!!!!! --Well, I LOVE them ALL, but this one just seemed to have some extra mojo sprinkles. :D
I've been taking a little blogging hiatus, but I'm still an active lurker (and subscriber). ;) And I can't get through my Thursdays without some PJ! :D I always learn SO much!!! I specifically wanted to mention how much I LOVED your Book Blogger News section. FANTASTIC. And a million other adjectives that are synonyms with "awesome." Especially as a lurker/subscriber, I don't always discover the news as it's happening. And even though I *try* to avoid the drama, I have a little bit of the *voyeur* in me that wants to know what's going down. Not to mention that it's good to know about Goodreads TOS changes and a *NEW* genre.--But I also love hearing your take on the matters at hand--I've grown to see you as not only a strong voice in the community, but also as one who is well-informed, has a sense of humor, and is more prone to putting out fires, than starting them. I really hope you continue the Book Blogger News section, either as part of BB101, or even on its own. SO many degrees of awesomeness!!! :D
Also, a while back, you had mentioned
Lynda.com
to me (and it was also in one of your BB101s)...Well, I kind of put it on a back-burner to look into later on...Then about a month ago, I got involved with a local nonprofit who uses
Lynda.com
as a resource for continuing education, and I got to see for myself what a fantastic resource it REALLY is. *shakes head* Next time I won't wait so long to take your advice! ;)
Again, just wanted to give you a little shout out and say thanks for sharing your awesomeness!!! :D" —Jill
"I know you're targeting the book-blogging community with these posts, Rachel, but I wanted to let you know how valuable I (and probably a lot of other writers) I find them as well. So...please keep up the great work -- it's hugely appreciated by many more than you think! :)" —Linda Poitevin
About the Blog:
Parajunkee's View, started in August of 2009, primarily focuses on books, fiction genre books to be specific. But, over time the blog has morphed into a community outlet for much more, including movies (usually based on books), television shows and other entertaining, artistic outlets. The blog also features tutorials for other bloggers on how to improve their own blogs, and memes that target improving page views and networking.
Maryse
After voting, please make sure to check out the next categories below!